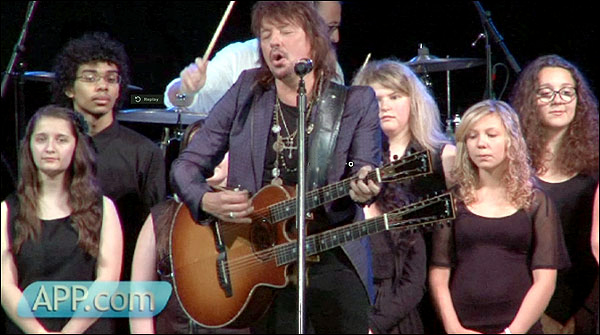 Sources: The Asbury Park Press; The Star Tribune.com
Bon Jovi guitarist Richie Sambora…a New Jersey native…drew on his own past in debuting a song at a Toms River New Jersey forum on drug abuse.
Tuesday night's event at the Pine Belt Arena in Toms River was aimed at raising awareness about the abuse of heroin and prescription painkillers along the Jersey shore.
"I got firsthand experience," he told reporters before the event. "I never did heroin but obviously I did other stuff."
Sambora unveiled a song he wrote called Lighthouse, about providing hope to people mired in addiction. He acknowledged he once abused drugs, but said he's clean now.
He told the crowd of 4,000 (with another 1,000 watching from an overflow video monitor room) that he is as scared as the parents who packed the arena.
"I'm mostly here as the father of a 16-year-old girl," Sambora said. "I'm scared…But we can't be scared silent.
"Together we can make a difference because this epidemic has to stop." He hugged a mother whose son suffered brain damage and is in a wheelchair after using heroin one time.
Backed by a children's choir, Sambora also performed the Bill Withers classic Lean On Me, and a slow-paced version of the Bon Jovi megahit Livin' On A Prayer.
Lighthouse will be sold on iTunes, with proceeds going toward a drug treatment facility envisioned for somewhere in the region…
"I wanted to do something optimistic, a beacon of light and hope," he said. "Everyone needs that light when they're far off the shore." The track included the lines: "Those who matter don't judge/When you're swimming with the tide in the wake of a flood."
Sambora said drugs had nothing to do with his departure from Bon Jovi last year. He said the band tried to do too much too soon and he needed a break from the pace.
Sambora was introduced to Ocean County prosecutor Joseph Coronato through a mutual friend and decided to help Coronato in his anti-drug campaign, which has already reduced heroin overdose deaths in the area.